|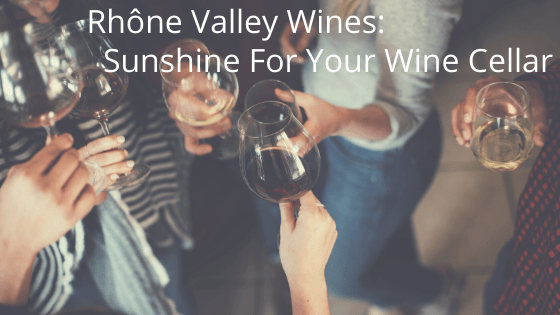 Perhaps you have enjoyed one of the delicious Rhône Valley wines, say a Châteauneuf du Pape. Or, you may have memories of a trip to the region, and sampling an assortment of fine regional wines. These suggested wines achieve a regional balance, as you explore beyond the wines that you have already enjoyed. Some of these selections are for current drinking, while others would benefit from a few years of cellaring. All point to your growing connoisseurship of wine regions that deserve to be better known, and are beginning to attract a wider audience.
Here are three cases, which total $1500 in cost (without taxes).
STARTING CASES ($500): Start with three cases of fine wine, for enjoyment now, and over the next few years. A case of 2007 Clermont Tonnerre Côtes du Rhône Villages "Très Vielles Vignes" ($144) is a treat, an excellent dozen bottles of quality red Rhône wine from a celebrated vintage. (If you can find it, you might substitute the Perrin Brothers' superb 2007 Côtes du Rhône Villages, at the same price.) Add a case of 2008 Tavel Rosé Modorée ($144), and you will have rosé wines of substance from France's most famous rosé wine region. And for white wines, a case of 2008 Grand Veneur Côtes du Rhône "Blanc de Viognier" ($204) will give you a quality white Rhône wine to savor.
NORTHERN RHÔNE SAMPLER ($500): Here we add six red and six white wines from quality producers. The red wines should be saved for enjoyment in six to eight years, if you can wait that long! The wines include a 2005 Colombier Hermitage ($45), three bottles of 2005 Guigal Crozes Hermitage (a bargain at $20 each), a 2005 Guigal Saint Joseph "Vignes Hospices" ($90), and a 2005 Tunnel Cornas ($40). The six white wines also would benefit from some aging, but they can be enjoyed now. They are half a dozen bottles of 2007 Guigal Condrieu (total $270), my pick from a flight of fine white wines sampled at the French Embassy. Condrieu is made from the Viognier grape. Here it is, from its original source, by a superior producer.
SOUTHERN RHÔNE SAMPLER ($500): Here are selections from the Southern Rhône, which feature Châteauneuf du Pape. I suggest several magnums, for these large format bottles make any dinner party a special occasion. I think you will also be pleased by the Gigondas, as I was. It is a taste of Burgundy without, quite yet, that region's escalating expense. And to finish the meal, I have added three half bottles of Muscat Beaume de Venise, a golden wine on the sweet side, that will complement your desserts.
Start with six 2005 Mas de Boislauzon Chateauneuf du Pape ($180). Add a magnum each of 2000 Bosquet des Papes "Chante le Merle Vielles Vignes" ($80) and 2005 Vatican "Sixtine" ($80). Include three bottles of Santa Duc Gigondas ($99). For dessert wine, add three bottles of 2006 Muscat Beaumes de Venise Durban ($56).
Wine Of The Month

Many would now agree that Château Beaucastel, produced by the Perrin brothers, sets the standard for Châteauneuf du Pape. Beaucastel is one of the very few wines that actually uses all thirteen of the grape varieties allowed for Châteauneuf du Pape. The landmark 2007 vintage will surely soon reach $90 or more a bottle. An attractive alternative, also from Perrin, is the 2007 Condoulet de Beaucastel Côtes du Rhône ($27). Made near the original and from many of the same grape varieties, Condoulet, which has doubled in price over the past few years, is still a relative bargain and a quality wine in its own right. It earns its place in your cellar.
Sign up for our newsletter and receive our Free Guide: 5 Secrets on How to Taste Wine Like a Pro!