|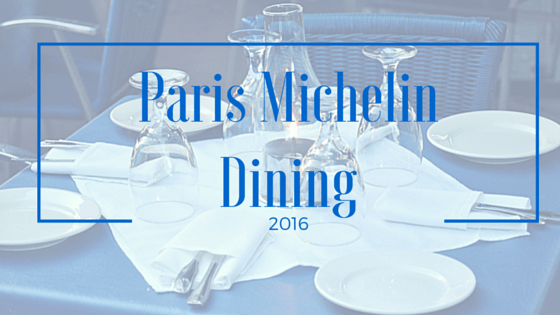 Paris Michelin Star Restaurants: 2016
At the beginning of every year, the food world stands still – especially in France – to see what's in the stars for Paris Michelin restaurants. While this year's Paris Michelin star announcements were darkened by the sad death of World's Best Chef Benoît Violier, the guide did release their new stars for Paris, with a few surprising changes from last year.
Just Starting Out: 7 New 1 Paris Michelin Star Restaurants
This year, Paris added six restaurants to its list of 1-star establishments:
Sven Chartier and Ewen Le Moigne's Saturne exemplifies the minimalist Scandinavian trends of late, with a natural wine list to convert novices and seduce experts.
Nakatani's name may surprise, as it fancies itself a restaurant of French cuisine. The truth is a bit more nuanced; Japanese chef Shinsuke Nakatani's cuisine exemplifies the roots of seasonal French dishes with slight eastern flair evident in the minimalist, aesthetic plating.
Chef Julien Dumas has given new life to the classic Lucas Carton, first opened in 1732, with his modern cuisine, rooted in a Mediterranean palate of aromas and kissed with exotic flavors.
The poetic name of Neige d'Été, winter snow, is inspired by Japan, with Japanese chef Hideki Nishi at the helm. The chef, who trained at the George V, combines his Japanese precision with French technique to exemplify only the finest ingredients, combining the flavors and aromas of both of these cuisines.
Mathieu Pacaud's Hexagone wears the nickname of his native country, an appropriate moniker for this heir of Parisian gastronomy, whose father, Bernard Pacaud, earned three stars at l'Ambroisie. But the son has stepped out from beneath his father's shadow with his reinterpretations of classic French cuisine, accompanied by one of the best Parisian wine lists. The restaurant combines the best of classic French cuisine and a more modern dining experience.
"Pure" and "sober" are words that reviewers are keen to use with Ryuji Teshima's Pages, a chic gastronomic restaurant near the Champs Elysées defined by its set menu and cuisine that is as attentive to ingredients as to technique. Teshima's modern, personal incarnation of French cuisine offers surprising flavor and textural combinations around every turn. His incarnations of classic French meat dishes are a force to be reckoned with.
La Table du 11, not strictly in Paris but rather in the chic suburb of Versailles, is the brainchild of Jean-Baptiste Lavergne Morazzani, a chef many are calling a prodigy, thanks to his flavorful, innovative cuisine, served in a small, 10-table dining room.
5 New 2-Star Restaurants
Paris' dining scene has welcomed 5 new 2-star addresses:
Only six months after opening Sylvestre, Pakistani-born Sylvestre Wahid earned two stars for his precise technique and the peaceful ambiance of this address, formerly home to celebrity chef Jean-François Piège. This artist of flavor and texture tells stories with his food, rich in terroir.
Precision is key at Jérôme Banctel's Le Gabriel, an elegant, luxurious restaurant worthy of its Champs-Elysées address. The chef's cuisine's technical edge has been sharpened with nearly 20 years' experience in some of Paris' top haute cuisine kitchens, and the result is a keen and unique look at classic dishes of French cuisine with the occasional, well-placed Asian touch.
Le Grand Restaurant by Jean-François Piège is worthy of the name. The celebrity chef has created his very own"laboratory of great cuisine," a dream he has had for years, finally realized: to show off the best in his uniquely creative cuisine for just 30 diners each service.
Christophe Moret, native of France's breadbasket, the Loiret region, is unsurprisingly attached to ingredients of the earth. After years in some of Paris' most prestigious kitchens, he opened L'Abeille in the Shangri-La hotel. Named for the bee, one of Napoleon's favorite emblems, the restaurant offers sophisticated cuisine true to his classical French training.
Within Mathieu Pacaud's Hexagones is Histoires, a gastronomic restaurant primed for culinary storytelling. Within the pure and plain dining room, techniques like infusion, maceration, and smoking are put to the test, and innovative, modern plates emerge. Pacaud's desire in creating this restaurant is to reinvent and to offer a novel experience; critics agree that he has succeeded.
Moving Up in the World: 3 Stars for Excellence
Paris gained two new 3-star tables this year:
Christian le Squer joins the ranks of Paris' 3-starred chefs at Le Cinq, at the illustrious George V hotel. In the luxurious, recently refurbished dining room, le Squer exemplifies the current trend of traditional French cuisine with a contemporary touch.
Last year, Alain Ducasse at Plaza Athénée's two stars surprised most critics, who assumed that he would earn three right out of the gate, but Ducasse was reportedly quite satisfied with two. We can only guess that he is even more pleased that his natural menu has now earned the celebrity chef three stars.
Notable Lost Stars
One Parisian restaurant lost its third star in 2016: Alain Ducasse's le Meurice. Meanwhile, two restaurants lost a second star, including L'Atelier de Joël Robuchon on the Champs Elysées and British chef Gordon Ramsay's au Trianon in Versailles.
Some swear by the guide, others disregard it completely.  The question that remains is, "How much does the Paris Michelin star guide affect your choice for dining in Paris?".  Email and let us know at [email protected].
Sign Up for our eNews articles and receive our Free Guide to Wine Tasting Like a Pro!