|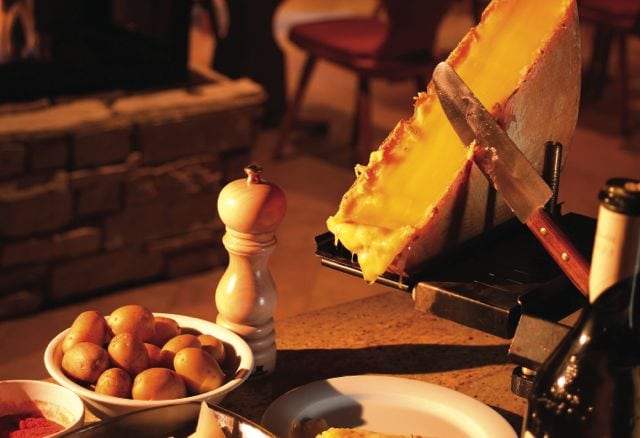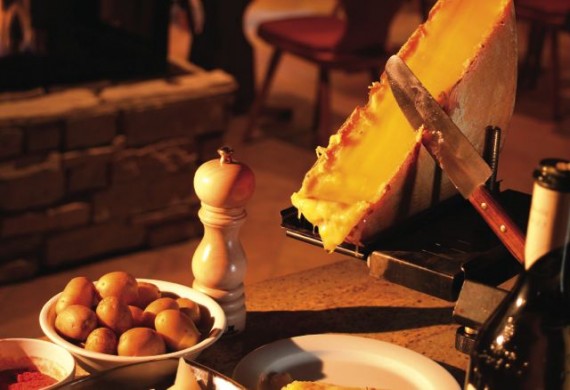 As winter approaches, those of us in the States might be getting ready for warm chicken soup or cinnamon-spiced cider. If you travel to Paris, fondue restaurants should be on your bucket list, especially during the colder months.  That is the time when Parisians enjoy mass quantities of melted cheese in the form of fondue, raclette and tartiflette. Why? Savoyard tradition, of course.
Savoie is a former kingdom that now lies at the border of France and Switzerland, in the Alps. It's a region famous for its amazing skiing and – perhaps even more so in certain circles – for its après-ski, or post-skiing atmosphere, restaurants and nightlife.
Some of the most popular après-ski foods in Savoie are fondue, raclette and tartiflette. While the first of the three is well known even in the States, the others might be slightly less familiar.
Raclette is a dish of melted cheese served over potatoes and an assortment of cold, cured meats. It's usually served as a half-wheel of raclette cheese, implanted on a special heating apparatus. Diners scrape – racler in French – the cheese off of the wheel and onto their plates.
As for tartiflette, this specialty is a baked dish of potatoes, onions and cream topped with reblochon cheese.
With the richness of these dishes, it's no wonder they're so popular in the winter!
While there's no ski – or après-ski in Paris – there's more than enough Savoyard food to go around. Here are a few places to taste these cheesy specialties in the capital.
Top Paris Fondue Restaurants
Kitschy and Cool: Refuge des Fondus
This restaurant in picturesque Montmartre is very popular amongst students in Paris. The gimmicks here are many: purposefully surly waiters, long tables you need to climb over to reach your seat, and, perhaps the most famous, wine served in baby bottles.
Food-wise, you have a choice between cheese or meat fondue; the prix fixe menu comes with an apéro platter and a very sweet kir to start and one baby bottle of red or white wine to accompany the main.
The fondue is not the best in Paris, but the atmosphere is cozy, and you have all of Montmartre to wander after dinner to help walk off the cheese.
17, rue des 3 Frères, 18th arrondissement
Flavor and a View: La Pierrade
If baby bottles aren't your style but you still want to sample these delicacies in Montmartre, La Pierrade is a good choice. The restaurant is named for the hot stones you can order to cook meat at the table. While this dish gave the restaurant its name, la Pierrade also has a good raclette on offer and a perfectly serviceable wine list.
93 Rue des Martyrs, 18th arrondissement
A Chalet in the City: Les Fondus de la Raclette
If you want a glimpse of what a true Savoyard ambiance would feel like, Les Fondus de la Raclette will get you fairly close. Its wood paneled walls are the ideal atmosphere to sample raclette as well as braserade, a slightly less cheesy but no less delicious Savoyard specialty of raw beef served to cook at the table on an electric grill. You can also elect to try a combination of both.
Fondus de la Raclette has two outposts: Montmartre and Montparnasse are each home to a version of this restaurant.
As opposed to others on this list, Les Fondus de la Raclette also offers chocolate fondue for dessert!
209, boulevard Raspail, 14th arrondissement
19, rue Joseph Dijon, 18th arrondissement
Cheesy Choices: Le Chalet Savoyard
If you'd rather your dinner be slightly less interactive, tartiflette is the way to go, and the place to taste it in Paris is at the Chalet Savoyard. This restaurant definitely capitalizes on its chalet allure as it serves up a fresh, bubbly tartiflette with real local products.
Le Chalet Savoyard also offers a large variety of fondues, served with bread and potatoes. The traditional Savoyard fondue is made with a blend of four cheeses: comté, emmental, beaufort and abondance; others on the list include a tomato-basil fondue, a cumin fondue, a blue cheese fondue and a porcini mushroom fondue. More than enough choices to go around!
58, rue de Charonne, 11th arrondissement
Please help us expand this list of Paris Fondue Restaurants and comment below!
Sign up for our eNewsletter and receive our FREE wine tasting guide.