|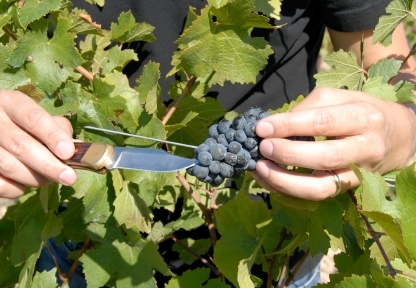 All of these terms are sometimes used loosely and in many cases have no official definition. Certified organic wines, for example, actually have different meanings depending on the country of origin.
Here's a quick guide:
Culture raisonnée or lutte raisonnée: Often translated as reasoned struggle, reactive viticulture or sustainable viticulture. Most small producers in France are in this category. Chemical treatments are not used systematically rather they are used only when needed and in small doses. Many producers may in fact practice organic viticulture unless unusual or extreme circumstances arise. For instance, many are unable to afford losing and entire years crop, may be forced to use chemical treatments.
Organic Wines: Made only from organically grown grapes with no use of chemical pesticides, herbicides or fertilizers in the vineyards. Organic viticulture promotes bio-diversity and achieves a natural balance in the vineyards by attracting beneficial insects. In France, the organic certification applies only to the grapes but not to the winemaking processes. This means that organic wines can have added SO2 unlike US certified organic wines. Certification is a three-year-long process in France and is verified by among other things annual scheduled and unscheduled inspections by organizations like Ecocert.
Biodynamic Wines : Taken from Austrian philosopher-scientist Rudolph Steiner's 1924 lectures. The farm is viewed as an entire living ecosystem starting with the soil which is treated as a living organism and receives special applications to enhance its health. One controversial aspect of biodynamics is its using of lunar and cosmic rhythms for timing of these vineyard applications. The importance of soil health is paramount and composting is regularly used to develop living soils with a vigorous microbial population. The tops soil is usually tilled the break up roots just below the surface thereby encouraging roots to descend deeper to the sub soils. This forces the grapevine to struggle for water and nutrients which in turn directs its energies into the grapes rather than the vegetation. Currently, there are approximately 500 – 600 certified bio-dynamic wineries worldwide. While there has not yet been a scientific study on its effectiveness versus organic viticulture, in blind tastings comparing biodynamic and organic wines biodynamic wines have regularly won.
Vegan or Vegetarian Wines: Proteins, spent yeasts and small organic matter in wines are sometimes eliminated from wines with fining agents made from animal products. Fish bladders, egg whites, milk proteins and even bull's blood (not allowed in the US or France) are all used as fining agents. As an alternative, Bentonite, a specific type of clay, is used for clarification in vegan wines. It's important to note that vegan or vegetarian wines may or may not be made from organic grapes.
Sustainable Wines: A holistic approach to vineyard management to that employs organic, bio-dynamic viticulture but is also concerned with the overall carbon footprint of the winery, the social and economic well being of its employees, supporting local communities and preserving and protecting agriculture lands for future generations.
Natural wine: There's no certification or even a generally agreed upon definition of natural wines. Most producers using the term use organic or nearly organic viticulture combined with little manipulation of the wines in the cellars. For example, only natural yeasts are used, the fermentations are slow, there is little or no use of new oak barrels; and there are no fining or filtrations or cold stabilization. Usually no sulfur dioxide (which acts as preservative) is added to the wines.
Written by: Greg Roberts, Roberts Fine Wines
Related Articles:
Provence Wines: Organic and Biodynamic Options are Trending
Burgundy Wine Tours: The Answer is 32- What is the Question?
Organic and Biodynamic Wines: Fad or Future Industry Standard?