|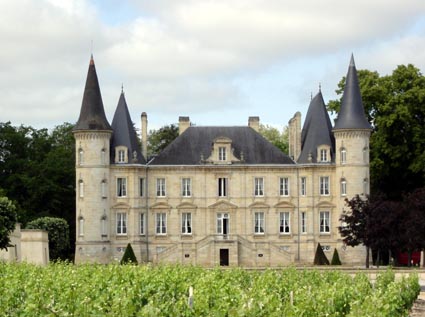 Care to buy some fine wines before they are even bottled? It is a well known practice, enabling wine producers recoup their costs early. Wine retailers are now sending around notices that wine futures for the heralded 2009 Bordeaux vintage are now available. A wine futures contract locks in a present price for wine to be delivered at a future date. For the 2009 vintage, that will most probably be in the fall of 2011 or spring of 2012, after the wines have been blended and properly aged in the winemaker's cellars.
I like futures buying, for the consumer that has done some homework. This is for two main reasons. First, the prices of a fine wine for a futures contract may be the lowest price that you will ever find. Second, by investing in futures, you will secure choice wines during that short window that they are still available.
Let me give a few personal examples of this. We enjoyed a magnum of 1978 La Mission Haut Brion, that had cost $69 when purchased. A week later, a retailer told me that bottle would have cost on the open market ten times more, "if it was available at all – which it isn't." A double magnum (four bottles) of Château Brane Cantenac 1982 was recently the hit of a family celebration. I was told that it would cost $1000 if it could be found at all. It had cost me $95.
Let me mention a few cautionary notes. Futures purchases as a rule should be confined to excellent vintage years, such as 2009. There are several reasons for this. First and foremost, a good vintage means that all wine properties benefit from fine weather, not just the most famous (and expensive) estates. The less expensive wine châteaux should therefore give even better value for the dollar. Second, an excellent vintage drives down the prices of other vintages, which are already in the market place. For example, the fairly good 2008 Bordeaux vintage, in a year or so, may well be marked down at your retail wine store, to make room for the new vintage. Lower prices then means there was little point in having bought futures for the 2008 vintage.
With a good relationship with your retailer, now is the time to talk with him and her for an assessment of the wines of this vintage. Since 2009 has been hyped as a fine year throughout the Bordeaux regions, including Sauternes, ask where it was most successful. What wine futures does your retailer offer, and why were those chosen? Are the larger format magnums available? How about half bottles? Is there a minimum purchase? A case of wine used to be required, but as prices have risen, many retailers no longer require a full case, but some retailers now offer futures even for single bottles, so you are free to mix and match a case of wine.
It is noteworthy that the 2009 vintage is thought to be a fine one not just in the Médoc and other red wine regions of Bordeaux, but also in the Sauternes/Barsac region to the south of the city. That is not a given, for harvest times and weather patterns can vary greatly, and a good harvest elsewhere in the Bordeaux region does not translate into a comparable one in Sauternes. So let us explore some 2009 Bordeaux futures now being offered, in both the Medoc and Sauternes regions.


Wine Futures – the Médoc Region of Bordeaux 2009
For the Médoc, I note futures prices for second wines, which are particularly fine value in an outstanding vintage, and then the price for the estate's classified grand vin. Per bottle prices are given – the wines are cheaper by the case.
La Dame de Montrose, St.Estèphe ($47) – Château Montrose ($159), Echo de Lynch Bages, Pauillac ($33) – Château Lynch Bages ($129); Chevalier de Lascombes, Margaux ($25) – Château Lascombe ($93); Sarget de Gruaud Larose, St. Julien ($19) – Château Gruaud Larose ($59).
Wine Futures – 2009 Sauternes
For Sauternes the prices noted are for individual half bottles. That makes sense since Sauternes is a sweet wine, usually served with desserts, and a little goes a long way.
Château Caillou (a lighter style, $17); Château Sigalas Rabaud (silky and elegant, $27); Château Lafaurie Peyraguey (substantial and satisfying, $25.50); Château Bastor Lamontagne (long a Bordeaux favorite, $15); Château de Fargues (expertly made by Count Alexandre de Lur Saluces, long the owner of Château Yquem).
Copyright ©2010 French Wine Explorers