|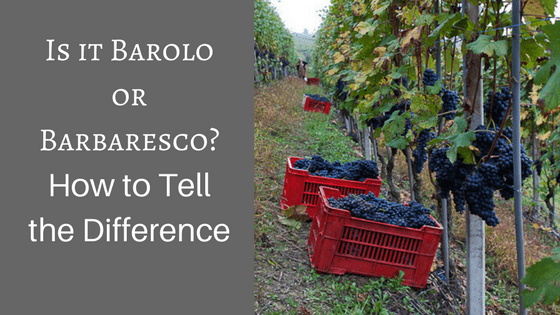 Barbaresco vs Barolo: How to Tell the Difference
Let's examine the question: "Barbaresco vs Barolo, how do you tell them apart?" They are nearly identical twins from the Piedmont region, so it can be a challenge. The differences are subtle. Let's look first at their similarities. They are both:
made 100% from the red grape Nebbiolo
intense, complex, high acid, and high tannin wines
deceptively light in color, with pronounced floral aromas, tar/earthy flavor notes, and age-worthiness
made in several styles that vary by the type and amount of oak used in the aging process
located near the town of Alba on the right bank of the important Tanaro River
Given these similarities, the question remains: Barbaresco vs Barolo: How might a wine lover tell these two wines apart?
Five aspects of where the Nebbiolo grape is grown and how the wine is made explain the subtle differences between these two wines. Mother Nature is the most important factor. The Nebbiolo grape is highly sensitive to its growing site. The disciplinare (regulator) also plays a key role setting official rules and guidelines for each Italian appellation.
1. Soil: There are two main types of soil in the area of Piedmont where Barolo and Barbaresco are situated.
Tortonian soil is a dark chalky marl laced with sand
Fresh and fertile, yet quite compact, it is high in magnesium and manganese
Wines grown in Tortonian soil tend to be elegant, soft, round, and approachable
They are ruby colored and mature relatively quickly
This style characterizes wines from vineyards in the communi of La Morra and Barolo, as well as the whole of Barbaresco where the soil content is more homogenous.
Helvetian soil is a looser type of calcareous marl, lighter in color, and alternating with reddish sandstone and limestone
It has high levels of iron and phosphorous
Wines made from grapes grown in Helvetian soil are full-bodied, brick-red color, with intense tannins, and have great aging potential
This wine style characterizes the Serralunga Valley communi of Monforte d'Alba, Serralunga d'Alba, and Catiglione Falletto.
2. Elevation and aspect
Barolo is situated at a slightly higher altitude than Barbaresco. In Barolo, winegrowers are required to plant vines between 500-1,800 feet. In Barbaresco, where the hills are on average 150 feet lower than in Barolo, grapes are planted between 500-1,150 feet on south-facing slopes. The term "bricco" is often attached to the names of vineyards planted in premier hillside locations. "Söri" describes a well-exposed sunny site.
3. Weather and Vintage Variation. Related to altitude, Barolo is slightly cooler than Barbaresco. It is somewhat more difficult for Nebbiolo to ripen in Barolo. Nebbiolo ripens more consistently in Barbaresco.
4. Aging Requirements
Barolo: 38 months, 18 in wood
Barbaresco: 26 months, 9 in wood
Riservas

Barolo: 62 months, 18 in wood
Barbaresco: 50 months, 9 in wood
5. Aging Vessels. Now it's the winemaker's turn. Building on Mother Nature and disciplinare requirements, a winemaker's choice of aging vessel contributes to the style of the wine.
Large wooden casks (botti) are typically made from chestnut or Slovenian oak and come in various sizes.

They are used many times, so wood influence is neutral.
Botti can hold over 1,000 liters of juice, which naturally limits the extent of surface contact between wood and wine as it ages.

At the other end of the spectrum is the much smaller wood barrique, typically made from French oak, and holds 225 liters of juice.

The type of toast applied to barrels when they are new is another variable.
According to winemaker preferences, the toast of the wood ranges from very light to very dark.
There is significant contact between juice and wood, which contributes to style and flavor profile.
5. Nebbiolo Style and Character
Traditional styles of Nebbiolo wines are very tannic. Long macerations and periods of barrel aging yield a certain structure and complexity that demands an even long period of rest in the bottle before the wine is ready to drink.
Modern (international) styles are more fruit-forward and approachable at a younger age. The length of maceration and barrel aging is shorter.
In addition to the above is the difference in mouthfeel:
Using a generally accepted (but broad) characterization, Barolo is often described as a "muscular" wine. It is densely structured and concentrated with a deep core of acid and tannin.
On the other hand, Barbaresco is typically described as an elegant wine, with finesse, distinctive lightness on the palate, and greater consistency among vintages.
Given today's diversity of winemaking styles, however, these generalizations may not hold up.
About Wine Labels: Menzioni Geografiche Aggiuntive (MGA)
Wine labels only say "Barolo" or "Barbaresco" DOCG. The name of the Nebbiolo grape never appears. In the past decade, a new system has been developed that resembles the Cru system for quality designations used in Burgundy, France. Called Menzioni Geografiche Aggiuntive (MGA), the system regulates use of town and vineyard names on labels in Piedmont and Liguria. There are 181 MGAs in Barolo, and 66 MGAs in Barbaresco.
Interested in learning more about Italy's wine classification? Check out our post: Are You Confused by Italian Wine Labels? Helpful Professional Tips
There's no contest: wine from Barolo is the king of Italy, and Barbaresco is its queen! Enjoy comparing Barbaresco vs Barolo and see their subtle differences on your own. Or join one of French Wine Explorers' group tours to Italy!
Sign Up for our eNews articles and receive our Free Guide to Wine Tasting Like a Pro!