|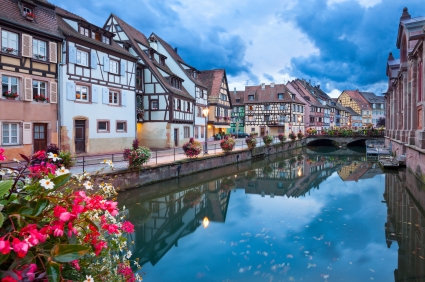 The Alsace Wine Route is celebrating its 60th anniversary!
This year, the Alsace Wine Route is celebrating its 60th anniversary. Considered as one of France's most popular scenic wine routes, it winds from North to South through 170kms of Alsatian vineyards. The inauguration of the Route in 1953 was definitely a good move for the Alsace region as it boosted tourism and the local economy.
For many visitors, the Alsace Wine Route is arguably France's most beautiful tourist route, featuring charming villages and countryside, which are characteristic of the foothills of the Vosges (Le Piémont des Vosges).
Some of the 67 towns and villages included in the Route have become famous since 1953 and attract a very large crowd of visitors during the summer months and Christmas. These gems of the wine country are often made up of old medieval ramparts, winding alleyways that bloom with magnificent geraniums, winstubs, vaults, half-timbered houses, and medieval churches. Many town names have become synonymous with rich traditions, friendliness, prosperity and great wines. These include Molsheim, Obernai, Barr, Andlau, Saint-Hippolyte, Ribeauvillé, Hunawihr, Riquewihr, Kaysersberg, Turckheim, Colmar, Eguisheim, Rouffach, Guebwiller, Cernay and Thann. The Wine Route is well-known all over France, as well as in Germany, Switzerland and Benelux. A few weeks ago, a TV program by the French public channel France 2 "Les villages préférés des Français" voted Éguisheim as the favorite village of the French people. In 2012, the same program placed Riquewihr in 6th place.
The Romans who introduced wine in Alsace and in the Upper Rhine region understood the favorable position at the foot of the Vosges, bathed in sunlight and protected from wind and rain by the mountains. The Alsatian vineyard is sheltered from oceanic influences by the Vosges and benefits from a semi-continental climate with particularly sunny, hot and dry summers. Interestingly, the region has one of the lowest rainfall levels in France (500mm per year), and this climate is favorable for the slow and prolonged ripening of grapes, and therefore production of high quality wines.
Today, the Alsace vineyard extends across the hills of the Vosges between heights of 200 and 400 meters. Some 14,000 hectares of grapevines produce an average of 150 million bottles of wine each year.
In Alsace, the wines are mostly named after the variety of the grapes, not by the area in which they are produced. This originality, unique in France, undoubtedly contributes to their great popularity. There are seven grape varieties in Alsace: Gewurtztraminer, Muscat, Pinot Blanc, Pinot Gris, Pinot Noir, Riesling, and Sylvaner.
The wines of Alsace (except for sparkling wine) are still sold in traditional slender bottles, which are named "Alsace flûtes". Since 1972, it has been compulsory for them to be bottled in the region where they were produced.
The local gastronomy shares important features with Germanic cuisine: baeckeoffe, bretzel, flammekueche (tarte flambée), sauerkraut (choucroute garnie), fleischnacka, or fried carp (carpe frite).
Alsace is one the best wine regions to visit in France thanks to its lovely villages, wonderful wines, and local specialties.  It's a destination that pairs well with more famous wine regions in France such as Champagne and Burgundy, and one that is definitely worth the detour. More on Alsace and wine from Alsace here.
Our friend Pierre of French Moments is running a 12 day

intensive course

in the heart of the Alsace Wine Route between September, 22 and October, 3 2014. Located in Kaysersberg, it combines 30 hours of lessons with a delightful balance of activities and excursions. There is also a healthy amount of down-time so you have time to relax and re-fuel, maybe savor some local produce or just curl up in the sunshine with a book! Outings and workshops along the Alsace Wine Route are varied and balanced to teach you about the local area and to enable you to experience France for yourself.