|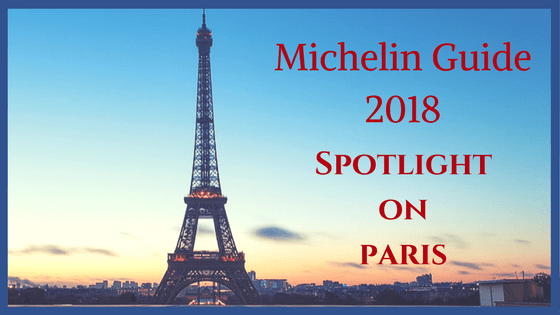 What's New In the Stars? Highlights of the 2018 Michelin Guide for Paris
Who were the winners and losers for the 2018 Michelin Guide for Paris restaurants? This year, the food world's most prestigious guide added 57 new tables to its pages, including 15 in Paris. The trend towards rewarding foreign chefs has not gone unnoticed, with Japanese and Greek nationals joining French chefs in the guide. While there are no new two- or three-starred tables in the capital, our Michelin Guide Paris Spotlight will let you know which stars to keep your eye on.
New Neighborhoods Are Getting Stars
The Michelin guide for is branching out! New Michelin stars can be found in arrondissements not typically featured by the guide, including two in the 18th, one in the 11th, and one in the 12th.
Parisians are applauding the long-awaited attribution of a star to Basque chef Iñaki Aizpitarte at Le Chateaubriand. The chef's tasting menu is famed among Parisian foodies for its creative, innovative dishes. The emblem of the neo-bistro has been rewarded!
Bruno Verjus got his start as a food critic, but he surprised the capital when he proved himself just as deft a chef. At Table, the ingredient reigns supreme.
In the 18th, Ken Kawasaki has opened an eponymous restaurant where he explores the intersection of his native Japanese and adopted French cuisines.
Not Just French! Foreign Chefs Earn Their Reward
It's time for other cuisines to shine! While a number of Japanese chefs have already earned Michelin stars in the capital, the 2018 Michelin guide for Paris includes chefs who hail from other nations.
Family-run Mavrommatis adds a Greek flair to this year's guide: the most haute cuisine of the group's four Parisian addresses is known for its Greek-inspired recipes, ingredients, and flavors with a touch of French technical inspiration.
Danish chefs have quickly been gaining renown in haute cuisine circles, and Andreas Moller is no exception. His Copenhague in the 8th is located within the Danish cultural center and features unique combinations of ingredients from his native land.
Notable Lost Paris Michelin Stars (and Other Possible Disappointments)
The 2018 Michelin Guide for Paris announcements are a time of celebration, but there are always a few disappointed parties.
Les Fables de la Fontaine, Le Relais d'Auteuil, and Sola all lost their stars; L'Escargot 1903, located just outside of Paris, also lost its star after earning it just last year.
A handful of chefs were on the presumed shortlist for promotion and didn't earn the coveted three-star recognition: in Paris, this includes Jean-François Piège of Le Grand Restaurant.
While Sébastien Bras' Le Suquet can be found, not in Paris, but in Laguiole, it's of note that the 46-year-old chef gave up his stars, citing the overwhelming pressure that the Michelin distinction brings.
Some swear by the guide, others disregard it completely.  The question that remains is, "How much does the Michelin Guide Paris edition affect your choice for dining in Paris?"  Let us know on Twitter, @FrWineExplorers or on Facebook, @FrenchWineExplorers. We'd love to hear from you!