|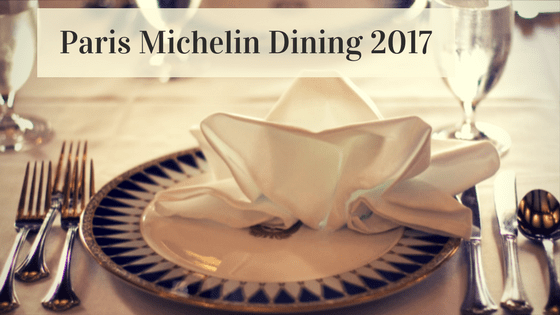 This year, the food world's most prestigious guide added 70 new stars – 16 more than last year – with 15 Paris Michelin star restaurants alone. This year, the Guide has rewarded "locavorism" in particular, saying that a "double trend" has emerged: one that concentrates on the ingredient first and on flavor over appearance, an important note considering the increasing popularity of Instagramming meals.
While there are no new three-starred tables in the capital, there are a few to keep your eye on.
Just Starting Out: New 1 Paris Michelin Star Restaurants
Last year's guide rewarded Japanese chefs quite handsomely, a trend that has continued this year.
At Sushi B, chef Masayoshi Hanada brings a superb sushi experience to the rue Saint Anne, which tends to be saturated with sub-par Japanese restaurants.
Chef Toshitaka Omiya of Alliance offers seasonal cuisine that marries classic French recipes with a slight Japanese edge.
Chef Yoshiaki Ito, formerly of Hiramatsu, brings his passion and decades of experience to l'Archeste, where he creates French haute cuisine dishes that invite classical Japanese ingredients like shiso and miso to the party. His Japanese sweet potato Mont Blanc is just one example of how this chef effortlessly combines the two cuisines.
La Scène Thélème, meanwhile, is an address like no other, where creative, modern cuisine meets creative, modern theater.

Diners experience a theatrical performance at 7pm before adjourning to the dining room, where Chef Pierre Rigothier's generous, rich cuisine (often lightened with a touch of citrus) takes center stage.
Paris Michelin Star Hotel Restaurants
The Ritz Hotel's Nicolas Sale is even further rewarded by the guide (as you'll see later), but his Jardins de l'Espadon has received one star for its modern, inventive cuisine in this classic milieu.
The trend continues with the Restaurant du Palais Royal, located overlooking the palace gardens. Chef Philip Chronopoulos notes that his goal is to bring back some French techniques that have been lost to time, like sauces that are nearly forgotten.
The George V Hotel is doubly rewarded for its efforts, with both Le George and L'Orangerie receiving one star. Chef Simone offers light, modern, Mediterranean cuisine at the former, while Chef David Bizet's contemporary, elegant, French cuisine is found at the latter.
Famed chef Akrame Benallal formerly of his two-starred eponymous restaurant, has created a novel experience at the new Akrame, where he incarnates the "contemporary innkeeper" with an inventive, almost playful menu and experience.
His former sous-chef has been handsomely rewarded as well: Hubert Duchenne's Restaurant H is a beautiful bistro with an open kitchen and a unique approach to this most classic of Parisian cuisines.
 Mathieu Pacaud, formerly of Michelin-starred Hexagone and Histoires, has created a new Divellec four years after the original shuttered. This restaurant is most deserving of its reward due to its focus on exemplifying the best that seafood has to offer.
The only new 1-starred restaurant in the region not in Paris is L'Escargot 1903, located in the suburb of Puteaux. Paolo Boscaro is the chef bringing a detail-driven, harmonious cuisine to these tables, not far from the financial district of La Défense.
3 New Paris Michelin 2-Star Restaurants
Paris' dining scene has welcomed 3 new 2-star addresses.
Kei Kobayashi of Kei is a young Japanese chef who learned the ropes with three-starred Gilles Goujoun and Alain Ducasse before creating his own eponymous house. The Japanese chef is firmly ensconced in the French tradition with a lighter, healthier touch, like his summer stew with green yuzu.
Christophe Pelé, formerly of Biagarrade, earned his stars for Clarence, located inside a sumptuous former private residence dating to the 19th century. The menu features a good deal of haute cuisine surf-and-turf combos, like a beef tartare with oysters or monkfish with pig trotter.
The Ritz has reopened after four years of renovations with the Table de l'Espadon, with Nicolas Sale at the helm. His haute cuisine philosophy with a modern flair creates such dishes as the langoustine with grapefruit and garlic caramel.
Notable Lost Paris Michelin Stars (and Other Possible Disappointments)
The Table du Lancaster was downgraded this year from two stars to one.
Critics believed Jean-François Piège's Grand Restaurant and Philippe Labbé's Tour d'Argent would receive, respectively a third and second star.  However those two chefs will need to wait another year to see if their labors will be rewarded.
Some swear by the guide, others disregard it completely.  The question that remains is, "How much does the Paris Michelin star guide affect your choice for dining in Paris?"  Let us know on Twitter, @FrWineExplorers or on Facebook, @FrenchWineExplorers. We'd love to hear from you!
Sign Up for our eNews articles and receive our Free Guide to Wine Tasting Like a Pro!