|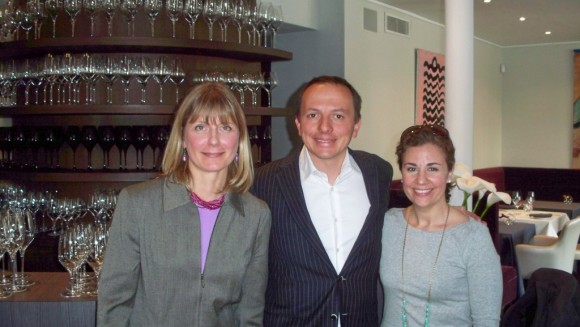 Since I was in
Paris
for a few days, I really wanted to share some time with one of our guides based there.
Mary has been leading
wine tours in France
for wine professionals and enthusiasts for many years: in Champagne, the Loire and Rhône Valleys, Languedoc and Provence. Fully bilingual and of French/American origins, she has earned the prestigious French state-recognized diploma and title of Sommelier-Conseil. The perfect date to bring to
Il Vino near Les Invalides in Paris.
"Il Vino" is the latest creation of Enrico Bernardo, the 2004 best "sommelier" of the world. The décor is contemporary but the atmosphere is warm, the service attentive without being over-bearing. Here, the diva is wine, and the quality of the food is an ideal match. We opted for the three-course blind tasting menu, where the chef decides on the courses, which are paired with wine selections. Here's what we had the pleasure of experiencing:Cormans, Malvasia,
Tasting notes: Straw yellow color, herbal and floral nose, dry with nice unctuousness to it, slightly tangy "sea" taste with lingering honey notes. Nice match to the fish entrée (lisette with eggplant caviar, slice of turnip crisp with tampenade).
Giacomo Grimaldi, Barbera dAlba, 2007
Tasting notes: Medium intensity ruby red color, very red fruit (cherry) nose, supple tannins and nice fresh acidity…good with the ballottine of lamb and lentils with lime sauce dish.
Dominique Gentile, Rappu, Vin de Liqueur from Corsica
Brick red color, nose orange rinds and figs, sweet full bodied wine, similar in style to a tawny port. Very nice with the cream of chestnut cannelloni dessert.
Although Mary and I were anticipating more French wine selections, it was a welcome surprise to taste these wines which were definitely enhanced by the food pairings.
I highly recommend this restaurant, it's worth the visit.
Il Vino
Enrico Bernardo
13, boulevard de la Tour Maubourg 75007 Paris
Reservation : 01 44 11 72 00
Open Tuesday to Saturday 7:00 to midnight.
Have you been to Il Vino? Will you try it next time you're in Paris? Tell us below!
Sign up for our eNewsletter and receive our FREE wine tasting guide.