French Wine Explorers Reviews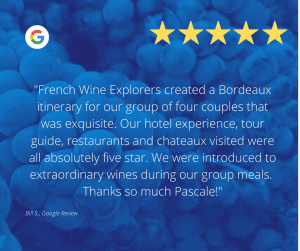 Having followed Pascale and French Wine Explorers for many years in Travel & Leisure and Conde Nast Magazines, I had always fantasized about taking one of her wine tours. The opportunity finally materialized when my husband and I and one other couple booked the "Deluxe Champagne, Burgundy & Bordeaux" Private Tour this past fall. It was AMAZING and exceeded all our expectations! First on all Pascale did an excellent job of selecting both the larger and smaller producers we went to each day, the most delicious and beautiful restaurants, really great and knowledgeable guides, clean and comfortable transportation, and lovely 5-Star accommodations. We look forward to going on another French Wine Explorers Tour in the near future. If I could give this tour 6 Stars, I surely would!
–Katherine R., Private Champagne, Burgundy and Bordeaux Tour
French Wine Explorers is THE premier wine experience for exploring Bordeaux. Their service is incredible, and their access to exclusive chateaus is unmatched. Bon voyage!
–Michael E., Bordeaux Prestige tour
We are big fans of French Wine Explorers and in the fall of 2018 went on the Burgundy tour. Visited all 32 gran Cru estates and the food was wonderful. Very professional and educational. We enjoyed it so much we went on their Bordeaux tour this last November. We enjoyed it as much. Everything first class and professional guides. I am 78 years old and the days were not tiring at all. Go, you will love this company.
–DRW
Dear Pascale,
I don't have words to describe how wonderful was the time  we spent at Bordeaux. Your guide is a gentleman with an excellent knowledge about wine industry. The final fantastic experience was our last visit. You can not imagen our surprise when we see the Venezuela flag at the entrance of the chateau and the final touch was after the lunch when Emanuele the waiter brought  at our table a cake with two candles singing happy anniversary. Elba started to cry.
So that, Elba and myself we would like to tell you, again,  THANKS A LOT.
–Nestor and Elba V., Private Bordeaux Tour
"Everything was first class, from the accommodations to the meals. Our guide was wonderful, and the itinerary was excellent. We had access to tastings and chateaus that wine enthusiasts can only dream of. And then there was the food – magnificent! We made some great new friends and will certainly be telling our old wine enthusiast friends about your future trips. Your tour confirmed that the art of good living is drinking fine wines with great food and great friends. Thanks for making this our best vacation ever!"
— David & Sandi Wood, Nanaimo, British Columbia, Canada, Burgundy & Champagne Prestige tour.
"Truly, this is one of the best tours in the world for wine enthusiasts."
— Mike Doran, Mundelein, IL, Great Estates of Bordeaux Tour.
"The domains we visited were wonderful . . .. we really enjoyed the Jardins des Remparts dinner – that was a real highlight. Our guide was a gem. (Her) enthusiasm, pride and love of all things in Burgundy rubbed off on everyone."
— Andy & Michelle Wilkinson, Singapore, Great Estates of Burgundy tour.
"In a word, 'perfection'. The clients felt that the trip was just so seamless, the accommodations excellent, our guide and expert host, the driver/vehicles just right. I can confidently say that the services you provided and the coordination and expertise you were able to deliver were clearly worth every penny to the client."
— Bobby Zur, travel agent, Travel Artistry, Franklin Lakes, NJ, Custom Wine Tour of Bordeaux
"Since Shelly and I enjoyed your Bordeaux Tour so much two years ago, we had very high expectations for the Wine & War Tour. You not only met those high expectations, you again exceeded them, but this time beyond anything we possibly could have imagined. If the Michelin Guide were ever to rate wine tours of France, French Wine Explorers would be number one on the list."
— Shelly & Tom Millhiser, Richmond, VA, Wine & War tour (that's them at left, tasting at Chateau d'Yquem in Bordeaux)
"The tour was fantastic! We enjoyed the knowledge of wine that our guide shared with us (he's also fun), the other people on our tour (we all got along well), the beautiful, spacious and private chateau we stayed in, the vineyards we visited, the wines we tasted, the delicious meals, and the big, air conditioned bus."
— Susan & Nelson Gonzalez, Fairfield, CT, Bordeaux Prestige tour.
"Staying at Chateau Pichon Longueville (Baron) was magical. We watched the sun rise over the vineyards of Chateau Latour from the windows of our room. We enjoyed dressing for dinner, sharing an aperitif with new friends in the sitting room recalling memories of the day while nestled among the vineyards. Dinners at the Chateau were more intimate and memorable than at even the finest restaurants."
— Tom & Lynda Mays, Bluffton, SC, Bordeaux Prestige tour.
"We thoroughly enjoyed our Champagne tour with Mary. She was the perfect host and the lunch at Les Crayères was unforgettable."
— Berry & Lizbeth Heatley, Warwick, Bermuda, Day Tour of Champagne
"The instruction/teaching/guidance was excellent. The food was superb . . . the wines were magnificent. Our tour hosts were simply wonderful, and made the trip as exciting as it was."
— Dr. Clay Robertson and Vida Robertson, Charleston, SC, Rhône Valley Tour.
---
Featured Blog Posts