|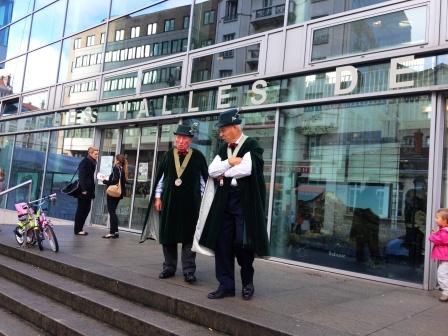 Welcome to Lyon! This lovely city is centrally located between Paris and Marseilles and is the gastronomic capitol of France. It's combination of history—it's a UNESCO World Heritage site—and commerce make it a unique and thriving metropolis in France. As an added benefit it's close to routes for Burgundy wine tours and Rhone and Provence wine tours.
It has so much to offer its visitors, from rich cultural haunts like museums and Roman ruins, to chateaux and wineries where exquisite wines can be sampled, it is almost a shame to not spend a week or two indulging in all that Lyon has to offer. Though some of us do not have that sort of time and may be interested in experiencing two or more regions in France. For those looking to spend only a few days in Lyon, discover all that is great about the gastronomic capitol in a three-day sojourn.
Day 1: Welcome to Lyon
Plan to start your day around 10am at the epicenter of Lyon gastronomy: Les Halles Paul Bocuse. This market dates back to 1859, though it wasn't until its extensive renovation in 2006, that it became home to no less than 56 specialty food shops and restaurants. There is an amazing variety of in season foods and everything is fresh—each stall is a small gastronomic oasis.
Pause at 11am like the locals and stop by a seafood bar for some oysters and wine. Don't forget to bring a large tote and your appetite! Then spend the afternoon visiting the historic district of Lyon. Its medieval old town is one of the best-preserved in Europe.
Make sure to discover "les traboules" or passageways built as far back as the 4th century. These passages were originally used by silk merchants and other manufacturers to convey goods from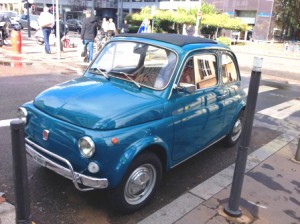 one place to another. Some are located beneath the city and are closed to the public, but there are plenty above ground to be seen if you take time to look around.
I love coming across vintage cars like this Fiat while I'm visiting Lyon. It is just perfect inside and out.
Day 2: Beaujolais Beyond Nouveau
Most people equate Beaujolais with lesser caliber wine, but there are ten crus waiting to be discovered in the region, which is only about a half hour from Lyon.
Start your day in Beaujolais with a visit to a local producer. Here we visited an organic producer with excellent rosé and red wines, and he gave us an informative primer on how to taste wine. His passion was infectious.
Want to taste wine at the best estates? Check out our Northern and Southern Rhône small group tour!
Click here for more information on our Rhône small group and private tours.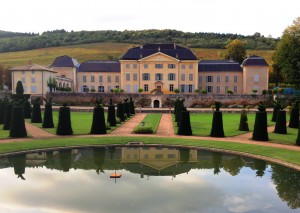 Be sure to schedule a visit to a cru producer and discover the power the Gamay grape can express. Though these particular grapes typically offer lighter, less complex characteristics—lots of red fruit and candied aromas—there are some crus that can produce full-bodied, complex wines.
Also a hallmark of Beaujolais, are the chateaux that stand tall amidst the medieval villages. This chateau proved to be an amazing stop, not only for the wines but also for the beauty of its gardens, designed by Le Notre, the chief gardener for King Louis XVI and the one who designed the gardens at Versailles.
Before leaving the lush landscapes of Beaujolais, be sure to stop at a local village, look for one designated as one of the "Most Beautiful Villages" of France. This one is famous for its homes made with "golden stones."
Click here to sign Up for our eNews articles and receive our Free Guide to Wine Tasting Like a Pro 
Day 3: Romans and Côte Rôtie
The vineyards of Côte Rôtie are situated on a rocky, steep incline; difficult to work, but they are known for producing some of the some of the most expensive wines in France. The region's whites are made primarily from Viognier grapes and its reds are composed mainly from Syrah varietals.
Though Côte Rôtie has a reputation for producing stellar Viognier wines, my companions and I tasted an amazing white produced from the Marsanne grape, I highly recommend it. And as for the region's reds, I fell for the St. Joseph wines.
After a morning touring the vineyards and tasting great wine, travel to Vienne for lunch and be sure to discover the Roman ruins. The city's ancient amphitheater is larger than the one in Orange, holding about eleven thousand spectators at the time, and it is still used for the city's Jazz festival that takes place two weeks every July.
Vienne is also home to an archaeological museum that is certainly worth the detour. It houses an impressive collection of mosaics and statues and gives the visitor a glimpse into not only everyday Roman society, but also the archaeological process that uncovers these ancient treasures. Here a private guide is a must.
Lyon and its surrounding cities offer a bounty of tastes and experiences. There are 2000 restaurants in Lyon, including the famous "bouchons"—restaurants that serve traditional Lyonnais fare. So while planning your next trip to France, consider visiting Lyon, it does not disappoint.
This slideshow requires JavaScript.
Click here to sign Up for our eNews articles and receive our Free Guide to Wine Tasting Like a Pro