|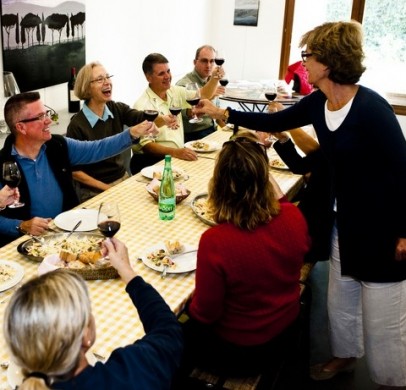 Beginning with Thanksgiving, the holiday season is perfect for enjoying fine French wines with friends. Ample holiday dinners go well with substantial wines, and it is the season for champagne. You also certainly want a bottle or two to bring to a dinner as an invited guest – definitely, something not last minute.
All this takes some planning, so let's chart the occasions for which French wines will be enjoyed. There will be three festive dinners – Thanksgiving, Christmas, and New Year's Day. Add champagne for New Year's Eve, a fine Sauternes to finish the holiday dinners, and Cognac or Armagnac of course.
You'll want several bottles of chilled Chablis to begin these three festive dinners. I suggest three bottles of Simonnet-Febvre 2011 (@ $13), for a festive touch. Recently bought by Latour, Simonnet-Febvre is living up to its promise now, and the prices haven't risen yet to match the value.
A perfect French wine choice for Thanksgiving is a matter of individual taste. Roast turkey probably doesn't go well with red wines, and many whites wouldn't have the heft. My choice is a fine Alsatian wine, an Albrecht Pinot Blanc Reserve cuvée Balthazar ($12). Christmas on the other hand usually features succulent roast beef, and Bordeaux is the logical choice. I've found a well aged St. Emilion premier grand cru, a Château Canon 2002 ($60). For New Year's Day, perhaps you'll be serving game, duck or goose. Here a fine Châteauneuf du Pape is called for, perhaps a magnum of Sablon (Roger) Reserve 2007 ($80). Nothing says festive occasion like one of these double bottles!
This is the perfect season to savor golden Sauternes wine with dessert. A little goes a long way, and I've found that a well stored bottle will last throughout the season, with desserts (not too sweet) for all three festive meals. I suggest a bottle of 2009 Bastor Lamontagne ($32). And of course, you'll want some Cognac. Try a Courvoisier Exclusif, a long aged VSOP ($35).
Your champagne for New Year's Eve is a matter of individual taste. The major Champagne houses have a selection of fine quality non vintage champagnes. The one you choose should be your preference (light, such as Taittinger, or more full-bodied, such as Pol Roger). Let's choose a bottle of Taittinger "La Française" ($36).
One of my seasonal treats is to make a real Cassoulet, a classic dish from Toulouse, with leftover goose or duck simmered for hours with spices and white beans in the slow cooker. It goes perfectly with a fine Cahors from the Southwest, say a Cedre "Heritage" Cahors 2009 ($12). And you will of course be going to a friend's house for dinner during the season. Bring a bottle of Rocher Figeac St. Emilion 2009 ($17) and ensure your welcome!
That makes one dozen delicious French wines, and many memorable occasions. The total cost is about $325, before taxes. With luck, if you buy a case of mixed wines, ask your retailer if there will be a per bottle discount. We'll never tell you got a bargain!
Bill Shepard, Wine Editor
Related Articles
French Wine Explorers: Reviews
French Red Wine: Savoring Hearty Winter Wines
Sign up for our Enewsletter and receive our FREE wine tasting guide
Copyright ©2012 French Wine Explorers