|
A recent Washington tasting of the 2009 Beaujolais vintage from the Henry Fessy firm gave proof that this vintage is flavorful and delicious. It
should have arrived at your favorite wine retailer for your summer enjoyment. As a bonus, good Beaujolais doesn't mean breaking the bank. These pleasant wines usually retail in the $9-$12 range (and a store here in Easton, Maryland is selling the Georges Duboeuf Beaujolais Villages for a ridiculous $7.20 a bottle)!
              There are 10 classified Beaujolais crus, in addition to Beaujolais and Beaujolais Villages. They are usually grouped on a scale of light to sturdy, with Chiroubles or Fleurie vying for the lightest cru, while Moulin-à-Vent is considered the sturdiest, and the only one that might benefit from aging for a few years. The tasting featured six crus, and Beaujolais Villages.
              The Fessy Beaujolais Villages was enjoyable, light and fruit flavored. The Régnié Château des Reyssiers was very good and refreshing. Like the other wines, these two were from 45-50 year old vines, and as is true of all Beaujolais, they are the product of the Gamay grape. Banished from Burgundy centuries ago, Gamay now flourishes in Beaujolais.
             I usually greatly enjoy Fleurie, but found this offering a touch astringent, which surprised me. It was the only disappointing bottle. For a contrast, the excellent Brouilly had a mouth-filling flavor. I can just taste a chilled glass with barbequed ribs! The Morgon might be your favorite. It was like the Brouilly, but more substantial.
             The final two wines were Juliénas and Moulin-à-Vent. The former is named for Julius Caesar, who is thought to have come through this region during his conquest of Gaul. It is a fine wine, more hearty than most. And for those who prefer a somewhat sturdier wine (by comparison to other Beaujolais crus), the Moulin-à-Vent was excellent, my favorite wine of the entire tasting. A few years cellaring is indicated.
             So take your pick, or enjoy several bottles, as you decide which is your favorite. And by all means start daydreaming at last about your own visit to Beaujolais. There are some fine local restaurants there offering delicious local cuisine, including the famous poulet de Bresse, chicken so famous that, like fine wines, it has its own appellation and standards of production.
             These wines were offered in  the $8.50-$11.50 range, so price hardly matters, and you may enjoy your favorite Beaujolais for the best of reasons – you like it best. There is fine scenery in Beaujolais as well. My own favorite Beaujolais is Chiroubles, and that may be because this cru occupies a particularly scenic stretch of vineyard in Beaujolais. And I must note that there really is a windmill at the Moulin-à-Vent vineyard!
 Wine Of The Month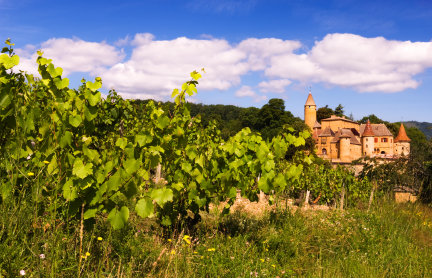 We celebrated our anniversary with a fine Dover sole, and a favorite white Bordeaux wine, Château Carbonnieux Blanc 2005. This vintage is 70% Sauvignon Blanc grapes, and 30% Sémillon. It is a refreshing wine, often served with the first course at dinners in Bordeaux. It should to our taste be served well chilled, as the blend then is most elegant. The label cautions you not to chill the wine unduly. However, the bottle made a second appearance with dessert, after an hour in the frig – and it went perfectly with the strawberry cheesecake. This is a genuine Bordeaux treat for $35 retail.
William S. Shepard, Wine Editor
Related articles:
Copyright ©2011 French Wine Explorers