|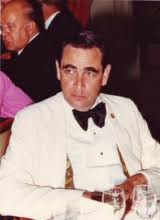 A recent note about the Commanderie de Bordeaux reminded me of several wine societies in France, which I had the pleasure of joining with other wine lovers. As I recall, the occasions were very pleasant and often rather informal.

With the Commanderie de Bordeaux ceremony itself, held at Saint André de Cubzac in the Gironde, I began these adventures. Before luncheon we initiates paraded off to the parish church. I was fascinated to see the stained glass windows of the church, which showed grapes growing and being harvested. The luncheon that followed had many fine wines, perfectly matching a variety of dishes. I particularly remember a running conversation that I had with an older member – it was like a relaxed seminar on fine wines. He knew most of the growers personally, and our conversation deepened my respect for fine winemaking.

When I was given a signed certificate from the Commanderie, it mentioned my "many services for Bordeaux wines." I wondered how they knew that, since I had been in Bordeaux less than two weeks!

A highlight of my stay in Bordeaux was my induction into the Jurade de St. Emilion. This was an impressive ceremony, conducted by torchlight in the underground Monolithic Church, which I describe in my thriller novel "Vintage Murder," set in the vineyards of Bordeaux. A sumptuous luncheon, presided over by Thierry de Manoncourt of Château Figeac, concluded the festivities. The Jurade has an ancient history, having been established by King John (yes, Richard's wicked brother) in the twelfth century. It was revived after World War Two by a local wine producer who had spent the war in a labor prison camp. He had kept his reason by imagining St. Emilion, and how the town's past glories could be recaptured. One way was to revive the ancient Jurade!

A less formal affair was my induction into the Bontemps du Médoc et des Graves. It was held by Henri Martin, who created the fine St. Julien property Château Gloria. This was an informal, jolly celebration of the vine, which happened to take place on my birthday. I learned that wine doesn't have to be rare or expensive to be enjoyable.

I was delighted to become a member of the Chevaliers de Bretvin at the Château de Goulaine, near Nantes. This was my introduction to the pleasant flavors of Muscadet wine, which I recommend as an inexpensive treat ($12 for the 2009 vintage). Robert, Marquis de Goulaine, did the honors. Wine has been produced there for many centuries, and the château has a claim to being the world's oldest wine producing property. The wine label pictures the arms of France and of England, a reference to an early Marquis who negotiated a truce during one of the many wars between France and England that engulfed the region.

American history entered the scene when I had luncheon at the Château de Cadillac, on the Garonne River across the Pont de Pierre and some 20 miles from Bordeaux. This was an old and rather imposing castle, the home of the Dukes of Epernon, and our Connétablie de Guyenne ceremony was pleasant indeed, with a Saturday luncheon that lasted half the afternoon. I found out that this very castle had given its name to American history in an intriguing way.

It seems that a young man, Antoine Laumet de la Mothe, coming down the river from the interior in the mid-seventeenth century to make his fortune, saw the castle and appropriated its name! As the "Sieur de Cadillac" (Lord Cadillac), he had many adventures. He is a founder of Detroit, Michigan, and became a Governor of Louisiana! I later met with a delegation of state legislators from Michigan who were on their way to put a state plaque on the farmhouse where he lived as a boy. So don't dismiss that young dreamer on board ship – he or she may have a rare and imaginative future!

And so wine mirrors culture, and promotes good fellowship. Who knows? Check out the websites of wine societies – you might just find one that will be holding a membership luncheon during your visit to France!
William Shepard, Wine Editor
Sign up for our Enewsletter and receive our FREE wine tasting guide
Copyright ©2013 French Wine Explorers