|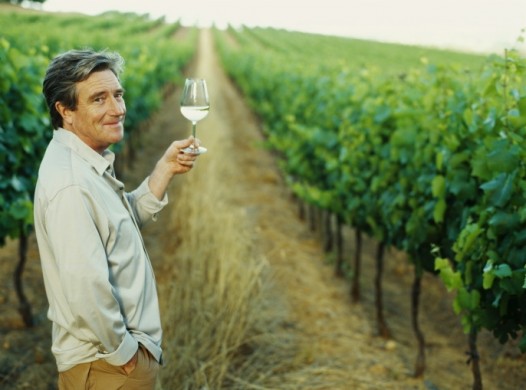 Why not let this be the year that you visit a wine château or two? You deserve it, and you will deepen your appreciation for fine wines. And there is always a wonderful sense of occasion behind visiting a wine château. You will long remember entering those château gates into the winemaker's world, and then of course your visit, the tasting, and the inside information that the winemaker was glad to share with you. You will only wonder why it took so long to make your first visit to the region of wine châteaux.
Now that the trip has been decided upon, why not do a little advance preparation, to make the most of your visit? Don't just be a spectator, pleasant though that will surely be. Try to talk with the winemaker or guide. You will probably find him or her pleased to share his knowledge, and his opinions, often quite forcefully expressed, about wine making. Here are some questions to start:
—– What wines do you make (and why not different ones)?
—– What proportions do you use of the different grape varieties in your wine?
These questions will let the winemaker tell you about what grows well at this property, and what does not. Possibly in the past they have experimented with some grape varieties which did not fare well. The winemaker may comment that different areas produce the same grape variety unequally, as the merlot grape in the Médoc is a softer varietal than the same grape grown in Pomerol. That of course affects the blend as well.
With some idea of what works well at this property, deepen your knowledge by asking about the property itself.
—– What is an ideal growing season like here? What years were ideal growing conditions? What was last season like? —– What is your best growing property, its exposure and subsoil?
These questions will begin to get to the materials that the winemaker works with, soil and climate. The question about the 2000 vintage is a control question, for generally speaking, that growing season was excellent in all regions of France. Through long experience, winemakers have dedicated certain areas to different grape varieties. Ask them why.
Then, on to the wine itself. Here are a few questions to get you started:
—– What percentage of your grapes do you declassify?
—– How do you ferment your wines, in oak or steel casks?
A self-respecting wine château watches its annual vintage very carefully, and only reserves the proven best wines for its grand vin. The rest, because it comes from vines that are too young, or because it does not meet exacting standards, is declassified as a second wine (often an excellent value, sold for a fraction of the price of the grand vin) or sold as generic or communal wine. The very best wine châteaux have been known to declassify their entire vintage, if it did not meet their exacting standards, taking a considerable monetary loss to safeguard their reputations.
The question regarding fermentation and cask aging can get you into a revealing conversation about the winemaker's guiding philosophy about his wine. Is good structure for the wine desirable, with the wine's flavor best brought out by long cask aging? If so, then not only wooden casks, but the proportion of new ones used, would be of interest. Since tannins are produced by such aging, often these wines are meant to be kept a very long time before the tannins soften, and combine well with the underlying fruit of the grapes.
—– How long does it take the wine to mature fully?
—– How long will well stored bottles last?
I always like to ask a winemaker when his wine is at its best, and the answer will vary according to the vintage and the bottle size (with magnums aging more slowly). The time that it takes wine to mature and reach its plateau of excellence varies with the vintage. You may well find that some more recent vintages are best enjoyed before other ones that are earlier. How long will the wine last? That is part of the great pleasure of wine enjoyment.
Wine Of The Month
It wasn't supposed to be a fine vintage, but the 1960 Château Brane Cantenac, a classified Margaux from the Médoc region of Bordeaux, was a family treasure. Our last bottle was enjoyed for our wedding anniversary last month, on board a cruise. I thought the wine might last perhaps fifteen minutes, and so declined the sommelier's repeated offer to decant the wine. We had our appetizers first, and then, the treasured bottle was opened just as our main courses arrived.
The wine was excellent, with clearly marked stages. First, it was young and a bit stalky. That soon passed, and then rich berry flavors came, with a strong tannin structure. But after about six minutes, the tannins receded, leaving a perfectly blended, flavorful wine that went beautifully with our Colorado lamb and Tournedos Rossini. After fifteen minutes or so there was a turning, and just a few minutes later the wine had aged beyond its flavors and was gone.
Sign up for our eNewsletter and receive our FREE wine tasting guide.