|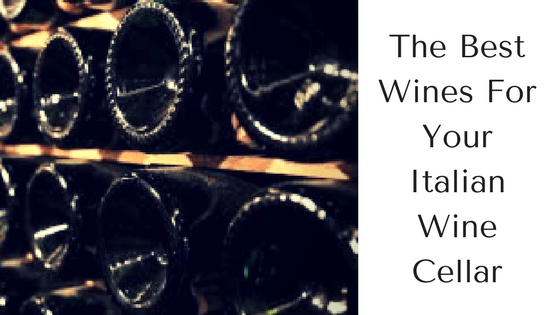 What Are the Best Wines For Your Italian Wine Cellar?
The value of a personal wine cellar is now well established. You buy young wines, often at their best price and greatest availability. Your wine cellar features the wines that you like best, both as to vintage and region of origin. With both young and mature wines, it can be a source of pride to drink your fine wines now, and in the future as your younger wines mature. And for French wines you will want to have a number of regions, from Alsace to Bordeaux, represented, as the French themselves do, topping off their regional selections each year. Now is a good opportunity to create an Italian wine cellar to compliment your French wine collection.
French Wine Explorers has led the way with half a dozen blogs on the great wine regions of Italy, starting with the "Super Tuscan" area. You can start and maintain your collection of Italian wines to taste, just as you would with your French wines. If you are just starting your wine cellar, these Italian wines would be a fine starting point. As a caution, check with your wine retailer. Except for the Prosecco, the wines would need aging to reach their full taste potential.
Which reminds me, wine is an international industry. Many Bordeaux winegrowers have shared their knowledge in Europe, as well as in the United States and elsewhere. My friend Jean-Michel Cazes of Chateau Lynch Bages (Pauillac), for example, supplied the knowledge and investment necessary to bring back the dessert wines of Hungary in the Tokay Region. Bruno Prats, former owner of Chateau Cos d'Estournel in St. Estephe, now produces fine dry red wines in the Duoro Region of Portugal. And Eliane de Lenquesaing, who owned (I would add, "rescued") Chateau Pichon Longueville, Comtesse de Lalande in St. Julien, now is enhancing the reputation of fine wines in South Africa.
I mention this because the very idea of "Super Tuscans" indicating a leap in quality may actually have a French origin. It reminds me of the idea of "Super Seconds," second growths that approached first growths in quality, a Bordeaux term that just preceded the "Super Tuscans" designation. It seems to me to designate more broadly a desire to improve one's wine offerings, thereby increasing demand and commanding higher prices. If the prices are not set unrealistically high, the trend towards wine excellence will continue, and it will be helped by expertise from Bordeaux.
Related content you may enjoy reading: Are You Confused by Italian Wine Labels? Helpful Professional Tips.
Here are some wine suggestions, based where possible on wines suggested in our previous blog articles, and at different price points for a case of 12 bottles. Happy collecting!
Some Nice Italian Wines: A Case of Prosecco and Chianti $250: Buy three to four of each suggested for your Italian wine cellar.

Start with Prosecco, an Italian sparkling wine that, like the "cremant" of various regions of France, serves as a bubbly treat.
My tasting class greatly enjoyed an Italian non-vintage bestseller, Prosecco Oro Puro Valdo ($17). Order several bottles for festive occasions.
You might even add some peach juice and make Bellinis, as the Italians do, although I believe this refreshing drink was invented at Harry's Bar in Venice.
Do you miss those straw baskets that used to contain low grade Chianti? I'll admit that I miss the folkloric presentation – but not the wines. Now that has changed, and fine Chiantis are available. Try some Antinori Chianti Classico Riserva 2013 ($43), or Selvapiana Chianti Rufina 2015 ($20).

A Case of Fine Wines from the Piedmont Region $500: Buy three bottles of each wine suggested.

You will want to savor the fine, deep red wines of the Piedmont region. For Barolo, try the Scavino 2013 ($35), or the Massolino "Brunate" 2013 at $60.
Another Piedmont red, the Barbaresco, rivals the Barolo as a favorite wine from this storied region, and you will want to compare the two wines, more than once, I'd say. The Produttori dei Barbaresco 2014 retails at $38.
There is a less expensive choice, the Nebbiolo d'Alba-Paitin "Ca Veja," 2013, at $22.

A Case of Super (and other) Tuscans $500 (and UP!): Pick half a dozen favorites to complete your Italian wine cellar!

The Ornellaia 2014 retails for $189. I was pleased to learn that Robert Mondavi partnered in the creation of this enterprise. His partnership with Chateau Mouton Rothschild was most successful in the creation of the Opus One series of wines, and he was an elegant host when we visited his California vineyard.
The Antinori "Tignanello" 2014 sells for $95.
But don't leave out other Tuscan reds that are not "Super Tuscans." Your purse and palate may just prefer the tasty Altesino Brunello de Montalcino 2012, at $55.
And there is a Banfi Rosso di Montalcino 2013 at $22. I have always found Banfi wines to be well and carefully made, and you might enjoy them as well.
Enjoy!
Sign Up for our eNews articles and receive our Free Guide to Wine Tasting Like a Pro!