|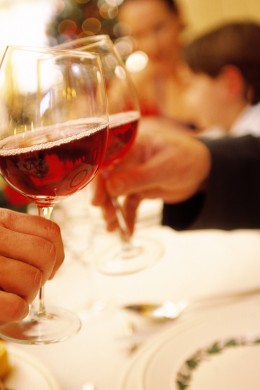 When I was Consul General in Bordeaux, I welcomed visits by the American Ambassador in Paris. These were festive occasions and opportunities to hold talks with leading residents of Bordeaux and the region. But let us suppose that our imaginary visitor is the first American Minister to Paris, Thomas Jefferson, who made a famous visit to both Burgundy and Bordeaux in 1787! What would he have to tell us about matching food and Easter wine?
I was intrigued when the regional newspaper Sud-Ouest once noted that since there is perfect pitch, perhaps there is also perfect taste! They reached this conclusion when two well regarded wine property owners, one from Pauillac and the other from Sauternes, scored consistently perfect results in wine blind tastings.
That would, I think, apply to Thomas Jefferson. His views on wine during this trip are still a guide to the best. He even picked Châteaux Lafite, Latour, Margaux and Haut Brion as the finest red wines from the Médoc and Graves regions, 68 years before the Classification of 1855 even existed. He thought Château d'Yquem the finest Sauternes, and Graves the best region for Bordeaux white wines.
And nobody has improved on his description of fine Burgundy: "The wines which have given such celebrity to Burgundy grow only on the Côte, an extent of about five leagues long, and half a league wide. They begin at Chambertin and go through Vougeot, Romanée, Beaune, Pommard, Volnay, Meursault, and end at Montrachet."
No record exists of his dinners at Monticello, although some visitors to the White House between 1801 and 1809 describe copious feasts, with a number of dishes often served at once. Fine wines were a specialty. We have just a few recipes in his own handwriting, and at www.monticello.org, a summary of his fine vegetable garden.
With allowances for different styles of wine making, here is his advice on food and wine pairing.
Jefferson: "So Easter has now become an American feast, in addition to a religious occasion?"
"Yes, Mr. Minister. And lamb is often the choice meat served. It could be a fine lamb pré-salé from Pauillac here in Bordeaux, or perhaps from New Zealand."
"Extraordinary. Captain Cook has just published an account about his voyage to New Zealand. And it is now a source for fine foods? What is the flavor like?"
"It resembles Pauillac lamb, gamy and full flavored. I wonder if one of your favorite Bordeaux or Burgundy wines might go well with lamb? These wines are now, by the way, made in a richer style. I'm told it has to do with the aging in Limousin oak, rather than the Baltic casks of former years."
He thought for a moment. "Begin with champagne, of course, a light one, if the dinner is to be heavy. Some of your guests might prefer a glass of Chablis, that fine white wine from the north of Burgundy."
"If the occasion is a grand one, then take one of my favorites. Lafite would be perfect from a good year, and as a lighter wine – I presume that is still true? – it would set the stage for a heavier wine with the cheese course, perhaps Latour. And if it is a family celebration, then serve instead one of my favorites, either Durfort-Vivens or Gassies. I presume they are still available?"
"Yes, indeed. And what if Burgundy is preferred?"
"Here, also try a lighter wine to begin, surely a Volnay. And conclude with something well aged and heartier, perhaps a Pommard or a Romanée. But you are only talking about meats. I do hope that many fresh vegetables will also be served. I hope to have an extensive garden at home in Virginia when I leave Paris."
"Yes, indeed. And for dessert?"
Here, the great man preened just a bit. "You must know that I am one of the first of our nation to appreciate ice cream, and I intend to make it popular at home. But that dairy confection would clash with wine." He thought for a moment. "I have had some success with my own recipe for bread pudding, as you perhaps know. Here, a little goes a long way. It should be served with a fine Sauternes, if not Yquem, then perhaps a wine from the fuller region of Barsac. The dessert should not be too sweet, however. That would also clash with the wine. In matters of taste, proportion is everything."
A messenger arrived, and after a whispered conversation, Jefferson took his leave. "I must return urgently to Paris. The politics there are taking a radical turn. But I am delighted to have seen Bordeaux once again. I infer from your questions that our nation prospers. Wish one and all a fine Easter repast from me."
What wines will you serve with your Easter meal? Let us know!
Sign up for our eNewsletter and receive our FREE wine tasting guide.