|
On my last quick visit to Bordeaux in April, I stopped by
Chateau Lagrange
to see the new tasting room and of course taste their wine.I got a very warm reception and we quickly visited the "chais" and reception rooms before venturing to the tasting room.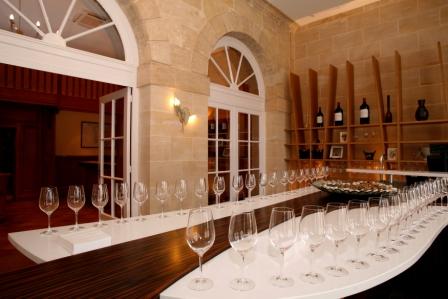 Chateau Lagrange is grand. It sits in Saint-Julien, just south of Pauillac, on 290 acres (not all vineyard, which allows for an idyllic setting, complete with a small lake and swans). It's a Third Classified Growth of the Medoc, and there has been great effort and substantial investment vineyard management since the 80's, when the property was sold to the Japanese Suntory Group.
Unique to Chateau Lagrange is that it is one of the rare properties in the Medoc producing a white wine, Les Arums de Lagrange, and has a strong following.
Visits and tastings are wonderful here. The tasting room is well equipped, and wonderfully showcases the wines. Of particular interest in the visit, the classic tastings are free (that is getting harder to find), you taste 4 wines including Les Arums de Lagrange, Les Fiefs de Lagrange, Chateau Lagrange barrel tasting, and most importantly- an older vintage for comparison (right now it's the 2002). This is a very nice presentation and you can appreciate the notable characteristics of Lagrange in doing so.
Hat's off to a wonderful, warm reception, and a very nice tasting.
Copyright ©2009 French Wine Explorers