|
Bordeaux Producers Combat Counterfeit Wines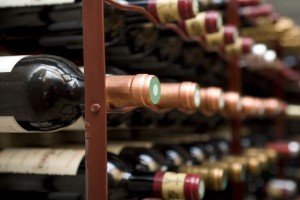 In recent years winemakers have been paying increased attention to the outside of a wine bottle in order to better protect what's inside. As the value of Bordeaux's top wines continue to rise so does the danger of counterfeiting, leading the châteaux to go further than before in defending their reputations.
In February, a London restaurant had a problem with an £18,000 magnum of 1961 Petrus which a customer believed to be fake. Although not every incident involving a wine of dubious origin carries such significant financial consequences for a wine drinker, for a château each counterfeit bottle can erode a reputation which took generations to establish.
Bordeaux winemakers have been aware of this problem for a long time and have used various means to protect themselves. Labels have traditionally been the most vulnerable element in guaranteeing authenticity, so winemakers have often focused on other packaging elements which are less easy to falsify.

In the 1800s some châteaux resorted to branding corks with the property's name and the vintage when bottling the wines themselves. Fifty years ago, Haut-Brion went a step further: beginning with the 1958 vintage it resurrected its 19th-century bottle shape, figuring that although it may be relatively simple to paste a fake Haut-Brion label onto a bottle of Château Eyewash, reproducing the estate's distinctive slope-sided bottle would be difficult enough to prevent anyone from even making the attempt.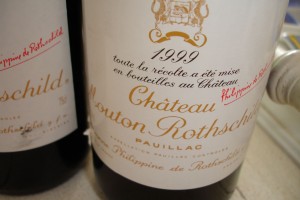 Other winemakers have focused on their bottles in different ways. For several years the Rothschilds (of Mouton) have used bottles bearing the family symbol of five arrows in a baronet's crown molded into the glass punt. Other properties such as Château Dassault in Saint-Emilion have the name of the estate incorporated into the bottle's base, and Château Giscours and Lascombes in the Médoc have a raised seal with their respective names molded into the glass below the bottle's neck.
Modern technology has been called into service with laser etching of a serial number on the bottle as it passes through the labeling machine, a process adopted by classed-growth properties such as Château Latour and Léoville Las Cases.
Château Léoville Barton has adopted a different system: a disk punched from a strip of plastic containing a random pattern of bubbles is permanently affixed to the bottle along with a code number. When buying the wine in a shop or a restaurant, you can connect to a website via smartphone and enter the code number; a picture of the unique bubble arrangement will appear on the screen, making it a simple matter to match the pattern and thus prove the wine's authenticity.
Like the currency that is used to buy it, Bordeaux's wines are protected by an ever-growing arsenal of measures so that the winemakers can preserve what is their true stock in trade–their longstanding reputations as producers of the world's greatest wines. The reassurance offered by the châteaux efforts goes a long way towards making their wines taste that much better.
By Dewey Markham, Jr.
Are you worried about buying or ordering counterfeit wines? Comment below!
Sign up for our eNewsletter and receive our FREE wine tasting guide.